Top Deals
Jus Jumpin- Kids Play Zone
Kolkata
Jus Jumpin Kids Entertainment : Kolkata M 202 - 2nd Floor, City Centre II Mall, Action Area II, Action Area IID, Newtown, Kolkata, West Bengal 700157
Tickets Range (Rs. 300 - Rs. 400)
Tickets Range (Rs. 300 - Rs. 400)
Tickets Range (Rs. 300 - Rs. 400)
Tickets Range (Rs. 300 - Rs. 400)
Tickets Range (Rs. 300 - Rs. 400)
Tickets Range (Rs. 300 - Rs. 400)
Tickets Range (Rs. 300 - Rs. 400)
Tickets Range (Rs. 300 - Rs. 400)
Tickets Range (Rs. 300 - Rs. 400)
Tickets Range (Rs. 300 - Rs. 400)
Tickets Range (Rs. 300 - Rs. 400)
Tickets Range (Rs. 300 - Rs. 400)
Tickets Range (Rs. 300 - Rs. 400)
Tickets Range (Rs. 300 - Rs. 400)
Tickets Range (Rs. 300 - Rs. 400)
Tickets Range (Rs. 300 - Rs. 400)
Tickets Range (Rs. 300 - Rs. 400)
Tickets Range (Rs. 300 - Rs. 400)
Tickets Range (Rs. 300 - Rs. 400)
Tickets Range (Rs. 300 - Rs. 400)
Tickets Range (Rs. 300 - Rs. 400)
Tickets Range (Rs. 300 - Rs. 400)
Tickets Range (Rs. 300 - Rs. 400)
Tickets Range (Rs. 300 - Rs. 400)
Tickets Range (Rs. 300 - Rs. 400)
Tickets Range (Rs. 300 - Rs. 400)
Tickets Range (Rs. 300 - Rs. 400)
Tickets Range (Rs. 300 - Rs. 400)
Tickets Range (Rs. 300 - Rs. 400)
Tickets Range (Rs. 300 - Rs. 400)
Age Limit: 6 months to 11 years
Last entry for 1hr slot @ 8PM & 8:30PM for 30mins Slot
Socks for kids are mandatory, also available at our store & is chargeable
Parents or servants not allowed inside the game zone
Spillages & damages must be reported to the staff
Any child/adult found misbehaving or bullying will be asked to leave the play area, immidiately
Any kind of sharp objects like pens, belts should be removed before entering the play area.
Tickets once booked cannot be exchanged or refunded.

Description:
us' Jumpin' is an entertainment zone solely dedicated to amusement purposes of the kids , an engagement arena peppered with installations of fun activities like climbing, running, jumping etcetera. These activities not only tend to boost their physical growth but are also essential for development of certain skills in them. Jus' Jumpin' looks to help them in this regard while making sure they enjoy themselves in the process, since we strictly believe in the saying that all work and no play makes Jack a dull boy.
Ride List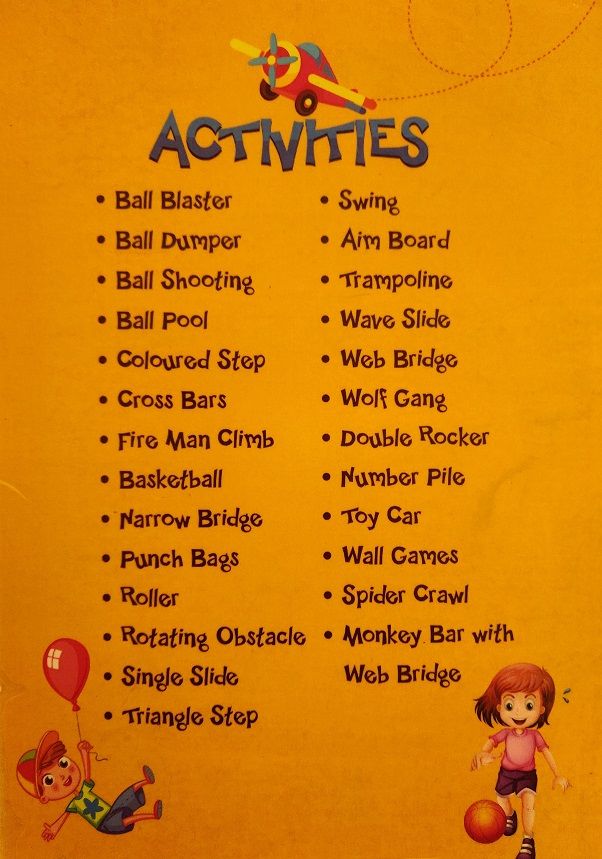 Connect Now!
Please Share your Contact No. we will connect you immediately
Need help? Call Support : 9650400559
How to use Tickets
After submitting payment for your ticket, you are our guest and you will on guest list of event organizer
You are required to show your event ticket at event venue
That's it! Enjoy your event. Happy Ticketing
Benefits of buying from Showwoo
We are trusted by many of event organizers and customers for providing outstanding services